Authentic Shoe & Co. | Toshinosuke Takegahara
Dialogue: Toshinosuke Takegahara | Authentic Shoe & Co.
INTERVIEW: Zen Tsujimoto | PHOTOGRAPHY: Chad Imes | Repeat Pattern | WEBSITE: galleryofauthentic.jp
---
In an age when the exponential rise of mass-produced footwear shows no signs of slowing, one can take solace in the story of Toshinosuke Takegahara — a self taught shoe designer inconspicuously working away in his quiet atelier in Sendagaya, Tokyo. Unbeknownst to many, the founder of Authentic Shoe Co. acquired his skills of shoe construction through the very opposite methods of making: by deconstructing and taking apart shoes.
The absence of academic credentials hasn't deterred Takegahara by any means, operating five labels under his command — Authentic Shoe Co., Beautiful Shoes, foot the coacher, Footstock Originals and SPECTUS SHOE Co. — and a flagship store, GALLERY OF AUTHENTIC, to house each line. We visit Takegahara in his Sendagaya atelier, where he took the time to explain the subtle differences and nuances of each of his brands. Recognised as a leading authority in his field, Takegahara's own work is found not only on the racks of high-end retailers, but also on display at the Northhampton Museum and Art Gallery. His SETTA shoe is the first Japanese shoe represented in the prestigious collection dedicated to the evolution of footwear. We further discover a long list of accolades behind the unassuming man, with his skills and expertise sought after by renowned labels such as George Cox, Tricker's, Helmut Lang, TheSoloist, SOPH. and HYKE. We sit down with Takegahara to discuss his passion for authenticity and his decision to go against the grain of the current market.
"My understanding was that if I could re-create the shoe I destroyed, I would essentially learn how to make it. My way may not be the conventional way, but this was a rational idea to me at the time."
---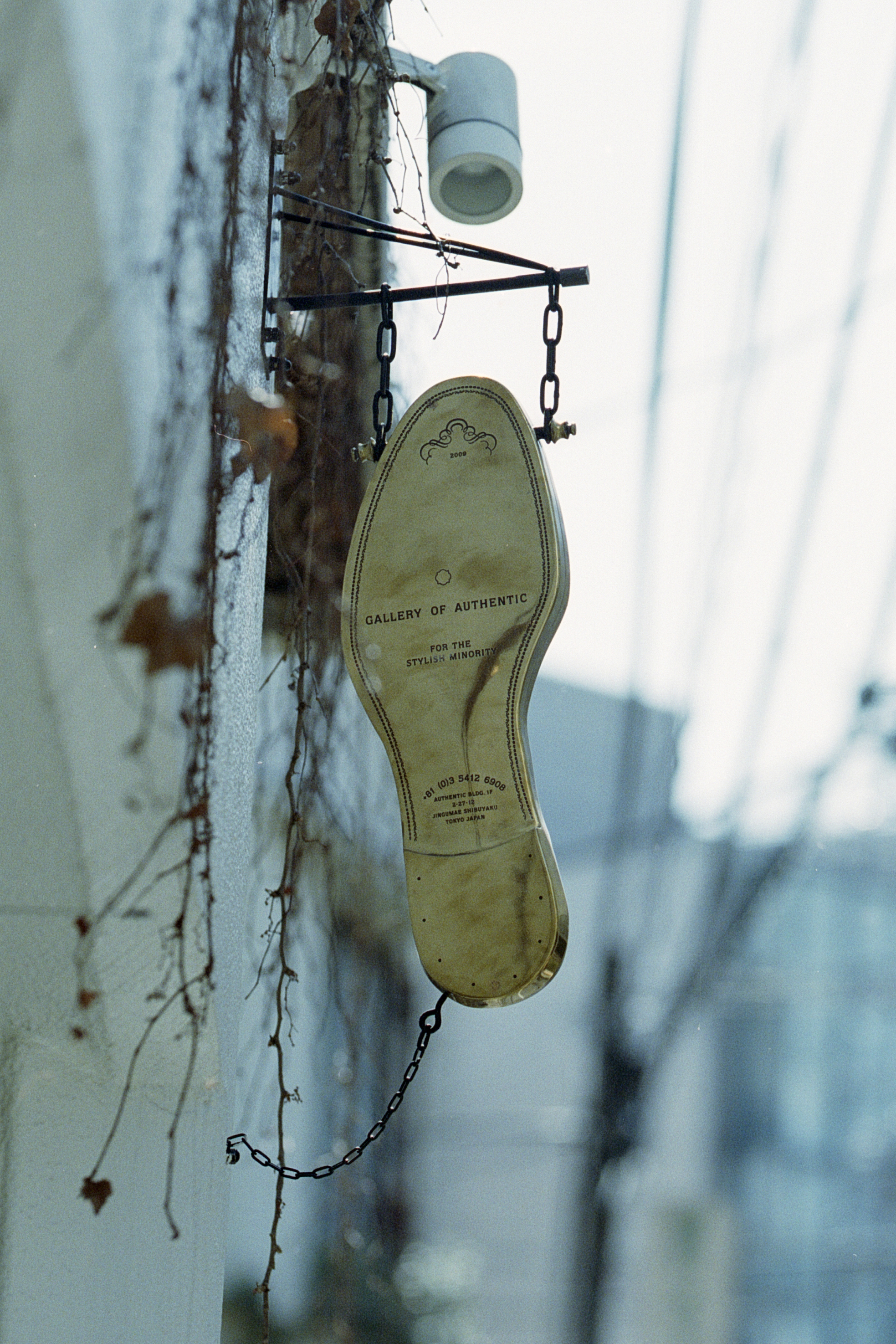 How exactly did you learn to make shoes? I heard you were self-taught.
Yes, I'm self-taught — I never went to school to learn this. If there was a pair of shoes I personally liked, I would disassemble them and put them back together, and would come to learn the art of shoe construction by doing so. My understanding was that if I could re-create the shoe I destroyed, I would essentially learn how to make it. My way may not be the conventional way, but this was a rational idea to me at the time.
You currently have five footwear brands under your direction, can you tell us the distinctions between these brands?
Authentic Shoe & Co. is a brand that shares its name with our company. It is also our flagship brand for dress shoes made with Goodyear welt and luxurious materials. "Beautiful Shoes" is a women's footwear brand; "foot the coacher" is a casual, youthful brand with high-end details; and "Footstock Originals" is a reasonably priced, daily standard shoe aimed at businessmen. The former subsidiary brands are all created with tradition in mind, while the last label — "SPECTUS SHOE Co." — takes a more contemporary stance, incorporating a system dial in place of the shoelace.
Can you explain the meaning behind "Authentic Shoe & Co.," "foot the coacher" and "SPECTUS SHOE Co."?
"Authentic Shoe & Co." portrays the core shoe designs that I wanted to create in the very beginning. I named it Authentic Shoe because I hoped to design shoes that continue to be stylish regardless of how many years have passed. "foot the coacher" was named on a whim. People always ask me the meaning, but I'm never quite sure what to tell them [laughs]. SPECTUS is a word I coined, interweaving the word "spec" and the suffix "tus,"common in mythological heroes. I didn't want the word to make any sense or any irrelevant attachments, or for people to think of any particular designs when the name is mentioned.
Authenticity seems to be a common theme throughout your brands and retail stores. What does authenticity mean to you and why is it important to consider it in shoe design?
I always liked old school and antique shoes, but I also believe in designs that do not change in meaning or feeling over time. For example, a popular song from 30 years ago will likely sound like an old song, but sometimes it can be just as fresh and inspiring as new songs when its originality shines through. I am always seeking that aesthetic. I want my brand to be known for shoes that can be worn for years and years to come. That is why I named my company Authentic Shoe & Co.
Your SETTA shoe was selected by the Northampton Museum and Art Gallery in 2004 as the first non-European and non-American shoe in the permanent collection. How did this come about?
I knew a guy from the British Embassy in Japan and met the president of Goodyear at a party there. While footwear culture certainly originated from the UK and US, I told him that I was shocked that Asian footwear was not displayed at the Northampton Museum when I visited years ago. The president of Goodyear then asked to see my work, and when I presented him the SETTA shoe, he asked to keep it for the museum. I went to check it out, and there it was, displayed in the museum. I consider it the most traditional Japanese silhouette to be chosen for the permanent collection, I just helped with the process (laughs). I think the president was also impressed that the SETTA was made of Indonesian lizard and Italian calf leather, among other materials chosen from around the world.
How did it make you feel to be included in the Northampton Museum and Art Gallery?
I was pleased because I knew it would give my work good exposure and reach a new audience. At that time, I felt the need to prove myself, so I remember being very happy.
You have also branched out to accessories. What made you decide to expand your focus beyond footwear?
I love Johnny Depp and Jim Jarmusch films, and I often used to watch them when I was young. Jim Jarmusch designed a skull ring named Jim Skull; Iggy Pop, Johnny Depp and all my favourite stars were wearing it. I wanted one for myself, so I went to New York to buy it, and I was eventually able to negotiate with the brand to offer me the rights to sell their products in Japan.
I began to feel the creative limitations of just designing footwear and wanted to explore other avenues of self-expression. Accessories and rings became a medium with which I could further articulate my aesthetic. I still want my customers to be able to choose what they want to wear, so I was clearly not interested in designing clothes. I thought selling accessories would become the platform that I wanted to explore. I think that my shoes, Flashpoint and END all blend well together in that sense.
You've worked with George Cox and Tricker's, both UK based brands. Did you always have it in mind to bring the expertise you learned from these heritage cordwainers back to your home?
What is great about British cordwainers is not whether the artisans are good or bad. If we are talking about good artisans, Japan is without question definitely the best. However, you can feel the character of each artisan in the shoes made in the UK, some rougher than others. This technique can never be achieved by copying. It is almost like the shoeboxes are delivered with the "air" of Northampton contained inside.
It would not be the same if Japanese artisans attempted the same techniques, so the best thing we can do is collaborate with Japanese artisans for what they're skilled at, and work with British artisans for what Japanese people cannot achieve. This is why I work with brands like Tricker's and George Cox.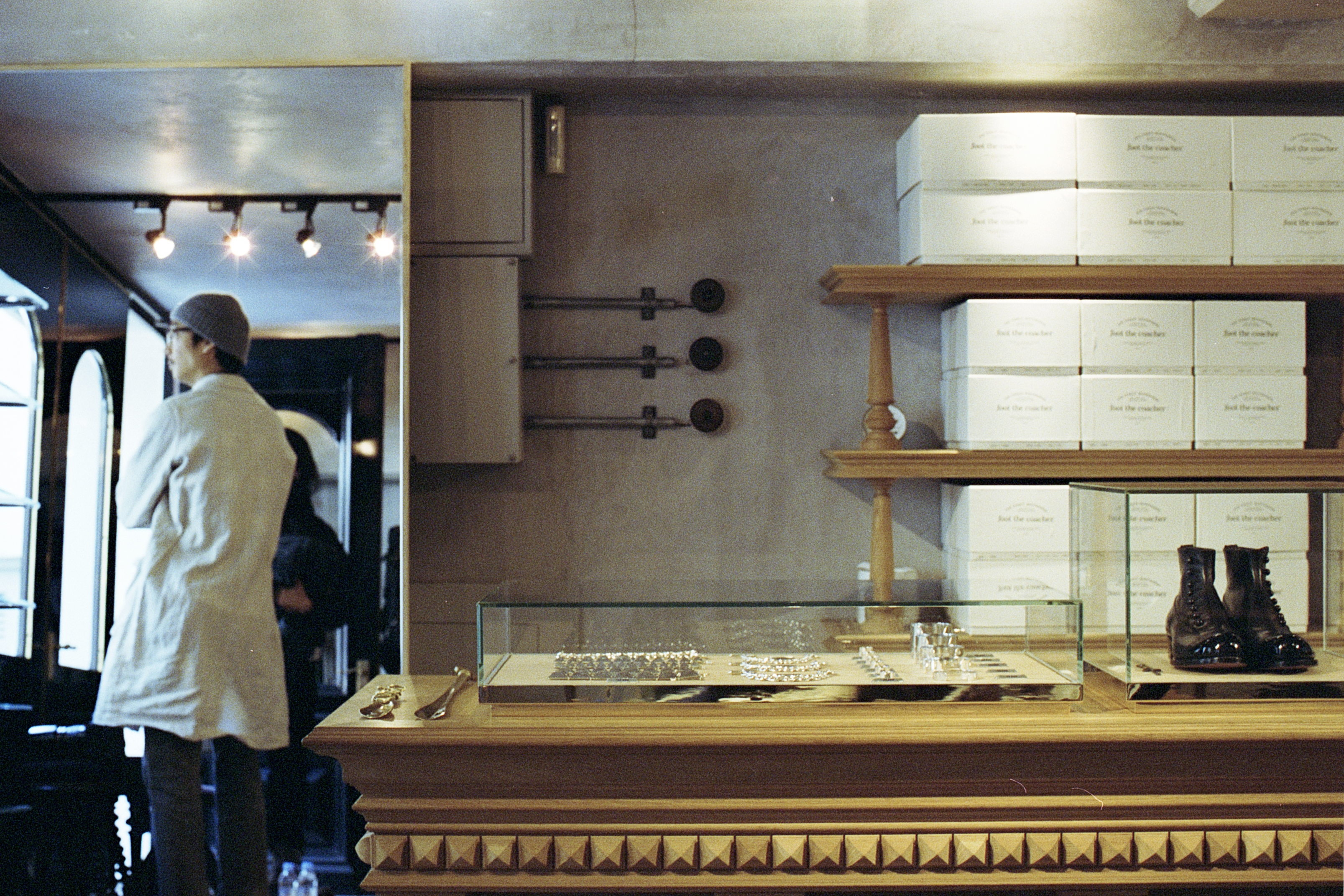 What are some ways that you implement themes such as PEACE / ANARCHY / Negative Nuke / FCK TRRSM into your designs?
Sometimes I run out of motivation to simply design shoes. I put out a new collection four times a year — as well as design for brands like The Soloist, SOPH. and HYKE — so it is not hard for the process to become routine. I need to remember that the reason why I started my brand was to send out the message that I was different and that I exist. To draw back on my original intentions, I often ask myself what I want to present to society, what I want to put out to the world. I think that when there is a message within the designs, the work itself means much more. More people with similar ideas may buy my shoes, or they might consider thinking about the message when they wear the shoes.
What are some other genres you would like to further explore in the future, based on what you have already accomplished?
I would like to continue creating great shoes. Since I now have several brands, I would like to do a case study on my company's creative process. I think the fashion business now is so diverse, and some brands are starting to forget their core values and base of designs. I want to show people what is cool and stylish, and I think our creative process itself can be a work of art. Instead of conventional exhibitions, I want to invest in originality and more guerrilla type marketing. Of the many shoe brands out there, I want ours to be known as the unconventional company that represents a work of art in itself.